This Is Your Life – The Holstee Manifesto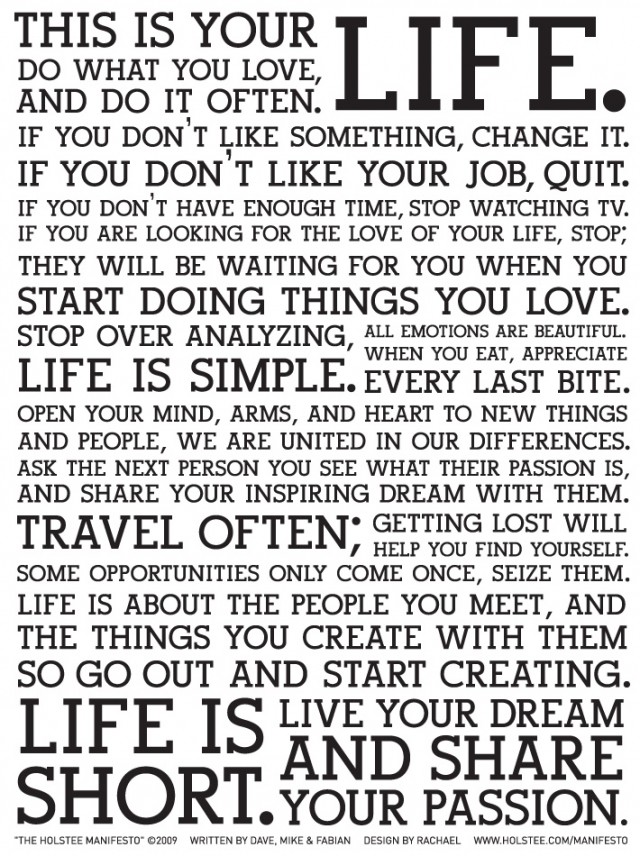 MOVE from Rick Mereki on Vimeo.
LEARN from Rick Mereki on Vimeo.
EAT from Rick Mereki on Vimeo.
Check out their blog too!
The Story
The Holstee Tee. Made of 100% Recycled material the shirt featured a unique holster positioned pocket – rethinking the classic t-shirt with focuses on fit, style, sustainability, and functionality.
Over the course of the first year of business the team designed and produced half a dozen new products including The Recycled Wallet, made of newspapers and plastic bags collected off the streets of India; The People Pendant, made of recycled acrylic scraps from a Chicago-area sign maker, and their Upcycled line of t-shirts which highlight the lasting value of apparel.
In the summer of 2010, Holstee launched a new area of their site, Curated x Holstee. Following the mantra "Curating with a Conscience" the Holstee team seeks some of the most beautiful and innovative sustainable designs and shares them with their community though their video reviews, newsletter and shop.
Holstee began as a dream Mike, Dave and Fabian had to create a lifestyle for themselves – a lifestyle which reflects their manifesto. Holstee designs and curates with the hopes that each product and its inherent story inspires others to follow their dream. A closely knit community of fans has been growing around Holstee products, curated items, the music they listen to, and experiences they share.
If it wasn't for the help and dedication of Holstee's creative, dedicated, and inspired contributors there is no way it would be where it is today. Thanks to everyone for helping us expand our vision for creating a better planet through beautiful design.
(via. Holstee)