Fish Tacos with Chipotle Mayo and Mango Salsa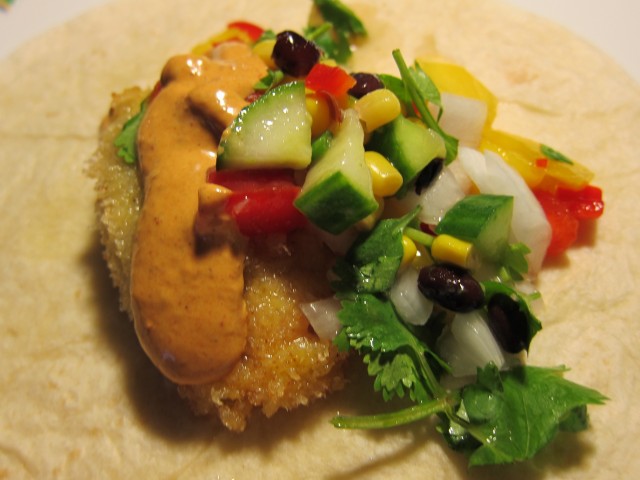 If you are looking to make something fresh for a hot summer day, this is the perfect recipe.
Makes 8-10 tacos
INGREDIENTS
1 pound tilapia fillets, cut into small chunks or strips (small enough to be wrapped inside your taco)
1/2 cup fresh lime juice
1/3 cup all-purpose flour
2 eggs, lightly beaten
2 cups panko crumbs
salt and ground black pepper to taste
1 cup vegetable oil for frying
DIRECTIONS
Place tilapia chunks in a flat dish and pour 1/2 cup lime juice over the fish.
Cover, and refrigerate for few hours.
Prepare 3 separate shallow dishes with flour, eggs, and panko for breading.
Season the fish with salt and pepper to taste.
Dip fish pieces in flour and ensure it is coated evenly and shake off excess.
Repeat the same steps for eggs and panko crumbs.
Set the breaded fish aside on a plate.
Pour vegetable oil into skillet  and heat over medium low heat. You should have enough oil to cover fish.
Cook until the fish is golden brown on all sides and flesh is easily flaked with a fork.
Drain excess oil on paper towels.
Brush honey-cumin sauce on fish.
Honey-Cumin Sauce
Makes about 1/2 cup of sauce
INGREDIENTS
1/3 cup fresh lime juice
2 tablespoons honey
1 tablespoon vegetable oil
1 teaspoon ground cumin
DIRECTIONS
Whisk together lime juice, honey, vegetable oil, and ground cumin a small bowl. Set aside until needed.
Chipotle Mayo
Makes about 3/4 cups of sauce
INGREDIENTS
1/2 egg
1/4 teaspoon minced garlic
1-1/2 teaspoons lemon juice
1/2 teaspoon prepared yellow mustard
1/4 cup and 2 tablespoons vegetable or olive oil
salt and pepper to taste
Above ingredients makes 1/2 cup of mayonnaise or you can substitute with 1/2 cup mayonnaise
2 chipotle chilies in adobo sauce
1 tablespoon adobo sauce from chipotle peppers
1/8 teaspoon cayenne pepper
DIRECTIONS
Combine the egg, garlic, lemon juice and mustard in a blender or food processor.
Blend until smooth
Switch the blender/food processor to a low speed and slowly pour oil into the blender in a fine stream as the mixture emulsifies and thickens.
Add chilies, adobo sauce, and cayenne pepper together. Blend until smooth.
Cover, and refrigerate until needed.
Mango Salsa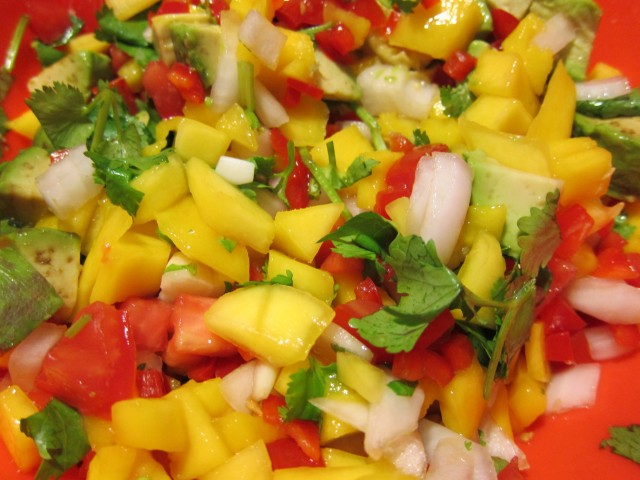 Makes about 2 cups

INGREDIENTS
1 mango – peeled, seeded and diced
1 avocado – peeled, pitted, and diced
4 medium tomatoes, diced
1 jalapeno pepper, seeded and minced
1/2 cup chopped fresh cilantro
3 cloves garlic, minced
1 teaspoon salt
2 tablespoons fresh lime juice
1/4 cup chopped red onion
3 tablespoons olive oil
DIRECTIONS
1. In a medium bowl, combine the mango, avocado, tomatoes, jalapeno, cilantro, and garlic. Stir in the salt, lime juice, red onion, and olive oil. To blend the flavors, refrigerate for about 30 minutes before serving.
Cilantro Slaw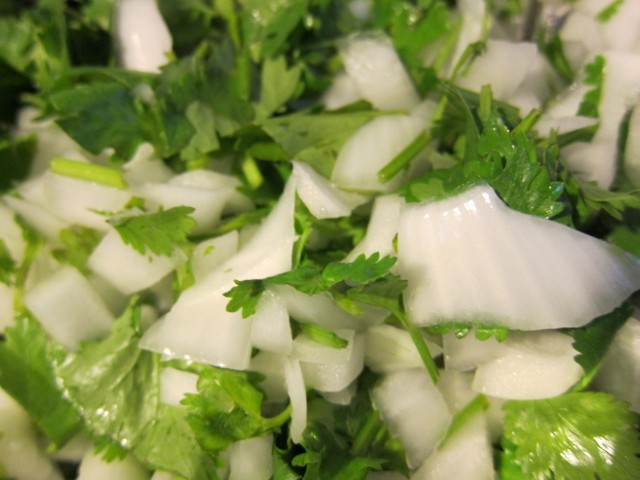 Makes about 1 cups
INGREDIENTS
1 white onion, chopped
1/2 cup chopped fresh cilantro
1 lime, juiced
FINALLY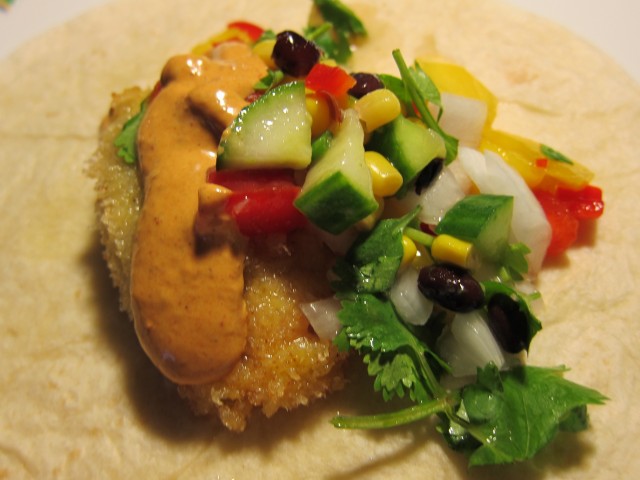 1 cup minced fresh cilantro leaves
8 (7 inch) flour tortillas, warmed
Avocado, Tomato and Mango Salsa
Place the tortillas on a flat surface, and spread each with 1 tablespoon reserved chipotle mayonnaise dressing. Divide the fish between the tortillas. Top with the cilantro coleslaw, mango salsa and more honey cumin sauce.
Thanks allrecipes 🙂