Rosemary Bread
After having the pleasure of watching my friend Stephanie make her bread and didn't get the opportunity to eat it. I went home and made my own to satisfy my cravings. I went to my trusted Mennonite recipe cookbook as soon as I got home and made two loaves of delicious rosemary bread with my own personal twist. Making bread is really not as hard as it sounds. I used to think that only hardcore bakers and cooks can do it. But after making it for my first time about 6 months ago, I realized it was really simple as long as you're good with following directions so that your bread will properly rise. If you are thinking of making your own,  make sure you are committed to take care of this bread baby for the next 3-3.5 hours. This recipe works for plain white bread as well or whole wheat (minus the rosemary and black pepper). I usually use bread flour for lesser dense texture. You can also substitute rosemary with other herbs, sun-dried tomatoes, cheese, olives, or whatever your stomach desires. I usually get my inspiration from local bakeries. Remember to share.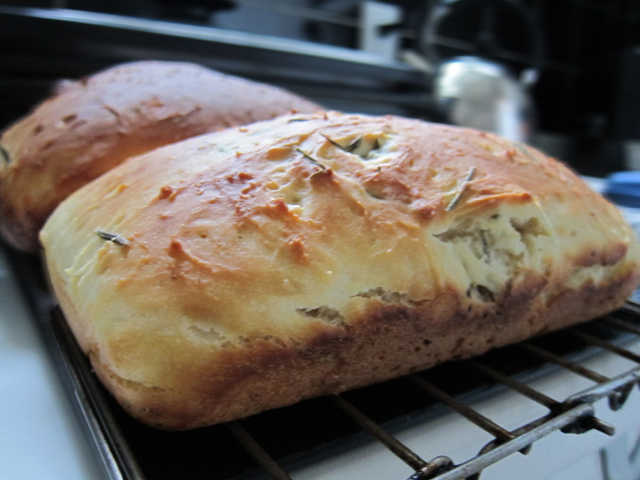 Rosemary Bread
Makes 2 medium loaves
INGREDIENTS
1/3 cup granulated sugar
1 1/2 cups warm water (110°F)
2 1/4 teaspoons old fashion yeast (or 1 pkg)
1 1/2 teaspoons sea salt
1 egg
4 cups bread flour
1 teaspoon freshly cracked black pepper
2 table spoons of olive oil or butter
1/2 cup fresh rosemary (removed from stem and chopped)
DIRECTIONS
1. Combine sugar, warm water, and yeast in a large mixing bowl.  Stir to ensure the yeast and sugar is properly dissolved. (Make sure the water temperature is around 110°F. The water should be warm. If the water is too hot it will kill the yeast and prevent your bread from rising.)
2. Allow the yeast mixture to stand for 10 minutes till it starts foaming.
3. Combine oil or butter, egg, salt and the yeast mixture. Mix well.
4. Add flour into mixture, one cup at a time. Stir with a wooden spoon till your dough is soft and sticky.
5. Cover the bowl with a dish towel and allow the dough to rise until it doubles in bulk for about 60 minutes.
6. Punch down the dough and turn the dough over in the bowl and allow it to rise again. Cover for about 45-60 minutes.
7. Grease your bread pans with butter or oil.
8. Preheat your oven to 400°F.
9. Add cracked black pepper and rosemary and knead for a few minutes. Do not over-knead your bread if you want your bread to to be fluffy.
10. Shape dough into 2 loaves and put them in pans. If you don't have bread pans, you can also use baking trays as well. Scoring the top of dough will help your bread rise more.
11. Cover and allow dough to rise for about 30 minutes when dough doubled.
12. Bake in preheated oven at 400°F for 20-25 minutes or until loaves are lightly browned.
Enjoy. Share. Crave.