After having the pleasure of watching my friend Stephanie make her bread and didn't get the opportunity to eat it. I went home and made my own to satisfy my cravings. I went to my trusted Mennonite recipe cookbook as soon as I got home and made two loaves of delicious rosemary bread with my own personal twist. Making bread is really not as hard as it sounds. I used to think that only hardcore bakers and cooks can do it. But after making it for my first time about 6 months ago, I realized it was really simple as long as you're good with following directions so that your bread will properly rise. If you are thinking of making your own,  make sure you are committed to take care of this bread baby for the next 3-3.5 hours. This recipe works for plain white bread as well or whole wheat (minus the rosemary and black pepper). I usually use bread flour for lesser dense texture. You can also substitute rosemary with other herbs, sun-dried tomatoes, cheese, olives, or whatever your stomach desires. I usually get my inspiration from local bakeries. Remember to share.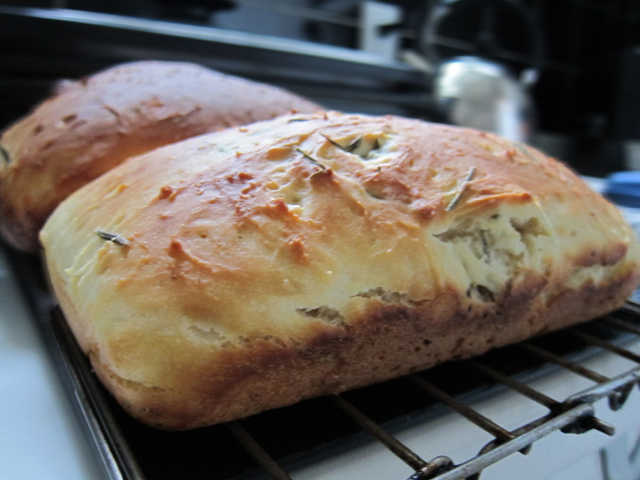 Rosemary Bread
Makes 2 medium loaves
INGREDIENTS
1/3 cup granulated sugar
1 1/2 cups warm water (110°F)
2 1/4 teaspoons old fashion yeast (or 1 pkg)
1 1/2 teaspoons sea salt
1 egg
4 cups bread flour
1 teaspoon freshly cracked black pepper
2 table spoons of olive oil or butter
1/2 cup fresh rosemary (removed from stem and chopped)
DIRECTIONS
1. Combine sugar, warm water, and yeast in a large mixing bowl.  Stir to ensure the yeast and sugar is properly dissolved. (Make sure the water temperature is around 110°F. The water should be warm. If the water is too hot it will kill the yeast and prevent your bread from rising.)
2. Allow the yeast mixture to stand for 10 minutes till it starts foaming.
3. Combine oil or butter, egg, salt and the yeast mixture. Mix well.
4. Add flour into mixture, one cup at a time. Stir with a wooden spoon till your dough is soft and sticky.
5. Cover the bowl with a dish towel and allow the dough to rise until it doubles in bulk for about 60 minutes.
6. Punch down the dough and turn the dough over in the bowl and allow it to rise again. Cover for about 45-60 minutes.
7. Grease your bread pans with butter or oil.
8. Preheat your oven to 400°F.
9. Add cracked black pepper and rosemary and knead for a few minutes. Do not over-knead your bread if you want your bread to to be fluffy.
10. Shape dough into 2 loaves and put them in pans. If you don't have bread pans, you can also use baking trays as well. Scoring the top of dough will help your bread rise more.
11. Cover and allow dough to rise for about 30 minutes when dough doubled.
12. Bake in preheated oven at 400°F for 20-25 minutes or until loaves are lightly browned.
Enjoy. Share. Crave.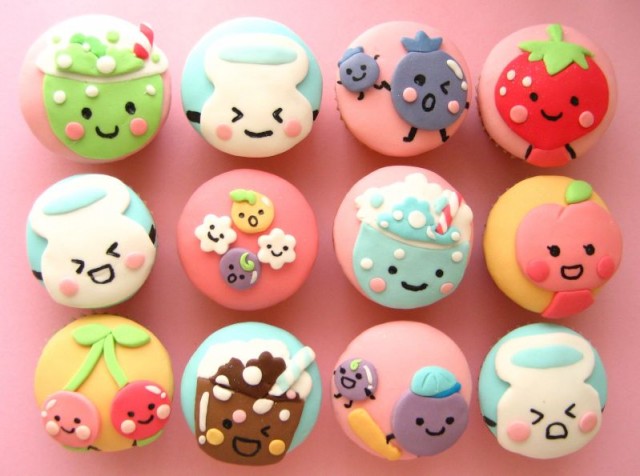 Photo via Cupcakes Take the Cake
"Part of the secret of success in life is to eat what you like and let the food fight it out inside"
- Mark Twain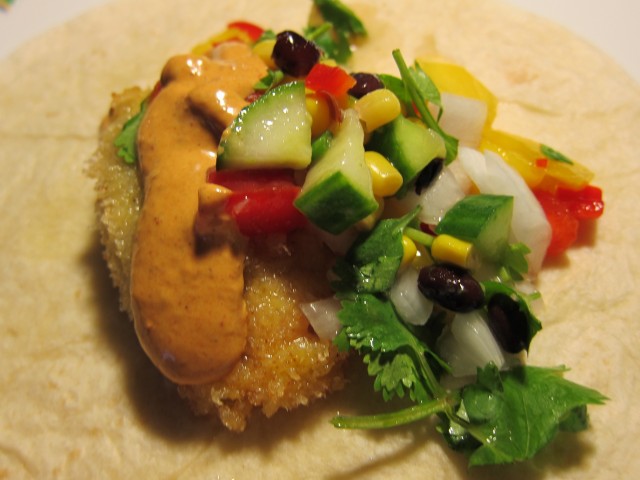 If you are looking to make something fresh for a hot summer day, this is the perfect recipe.
Makes 8-10 tacos
INGREDIENTS
1 pound tilapia fillets, cut into small chunks or strips (small enough to be wrapped inside your taco)
1/2 cup fresh lime juice
1/3 cup all-purpose flour
2 eggs, lightly beaten
2 cups panko crumbs
salt and ground black pepper to taste
1 cup vegetable oil for frying
DIRECTIONS
Place tilapia chunks in a flat dish and pour 1/2 cup lime juice over the fish.
Cover, and refrigerate for few hours.
Prepare 3 separate shallow dishes with flour, eggs, and panko for breading.
Season the fish with salt and pepper to taste.
Dip fish pieces in flour and ensure it is coated evenly and shake off excess.
Repeat the same steps for eggs and panko crumbs.
Set the breaded fish aside on a plate.
Pour vegetable oil into skillet  and heat over medium low heat. You should have enough oil to cover fish.
Cook until the fish is golden brown on all sides and flesh is easily flaked with a fork.
Drain excess oil on paper towels.
Brush honey-cumin sauce on fish.
Honey-Cumin Sauce
Makes about 1/2 cup of sauce
INGREDIENTS
1/3 cup fresh lime juice
2 tablespoons honey
1 tablespoon vegetable oil
1 teaspoon ground cumin
DIRECTIONS
Whisk together lime juice, honey, vegetable oil, and ground cumin a small bowl. Set aside until needed.
Chipotle Mayo
Makes about 3/4 cups of sauce
INGREDIENTS
1/2 egg
1/4 teaspoon minced garlic
1-1/2 teaspoons lemon juice
1/2 teaspoon prepared yellow mustard
1/4 cup and 2 tablespoons vegetable or olive oil
salt and pepper to taste
Above ingredients makes 1/2 cup of mayonnaise or you can substitute with 1/2 cup mayonnaise
2 chipotle chilies in adobo sauce
1 tablespoon adobo sauce from chipotle peppers
1/8 teaspoon cayenne pepper
DIRECTIONS
Combine the egg, garlic, lemon juice and mustard in a blender or food processor.
Blend until smooth
Switch the blender/food processor to a low speed and slowly pour oil into the blender in a fine stream as the mixture emulsifies and thickens.
Add chilies, adobo sauce, and cayenne pepper together. Blend until smooth.
Cover, and refrigerate until needed.
Mango Salsa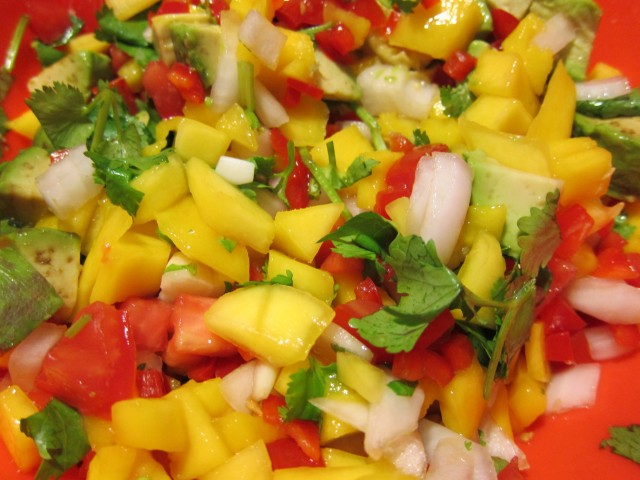 Makes about 2 cups

INGREDIENTS
1 mango – peeled, seeded and diced
1 avocado – peeled, pitted, and diced
4 medium tomatoes, diced
1 jalapeno pepper, seeded and minced
1/2 cup chopped fresh cilantro
3 cloves garlic, minced
1 teaspoon salt
2 tablespoons fresh lime juice
1/4 cup chopped red onion
3 tablespoons olive oil
DIRECTIONS
1. In a medium bowl, combine the mango, avocado, tomatoes, jalapeno, cilantro, and garlic. Stir in the salt, lime juice, red onion, and olive oil. To blend the flavors, refrigerate for about 30 minutes before serving.
Cilantro Slaw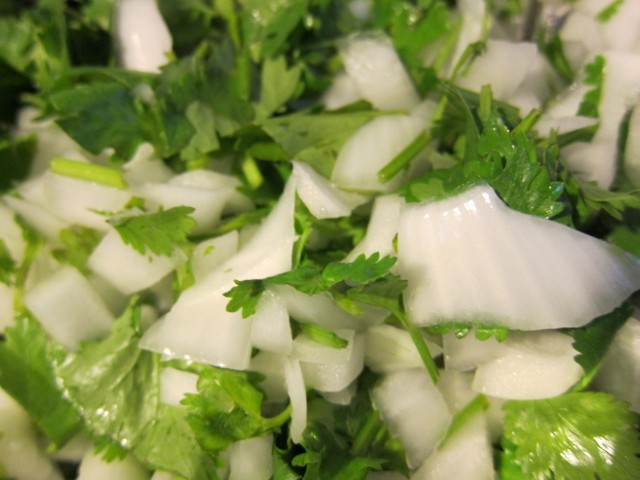 Makes about 1 cups
INGREDIENTS
1 white onion, chopped
1/2 cup chopped fresh cilantro
1 lime, juiced
FINALLY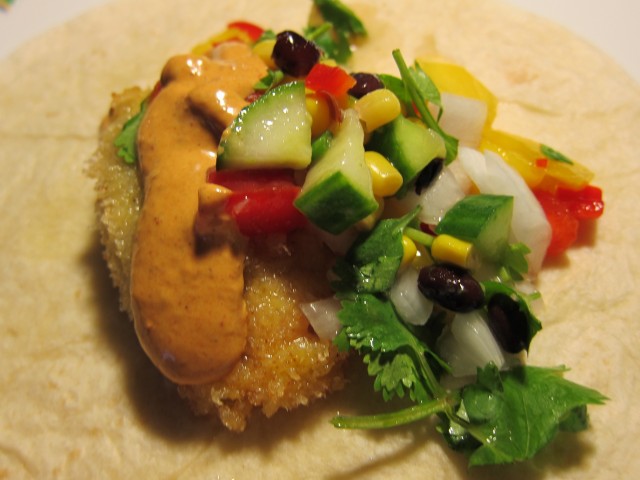 1 cup minced fresh cilantro leaves
8 (7 inch) flour tortillas, warmed
Avocado, Tomato and Mango Salsa
Place the tortillas on a flat surface, and spread each with 1 tablespoon reserved chipotle mayonnaise dressing. Divide the fish between the tortillas. Top with the cilantro coleslaw, mango salsa and more honey cumin sauce.
Thanks allrecipes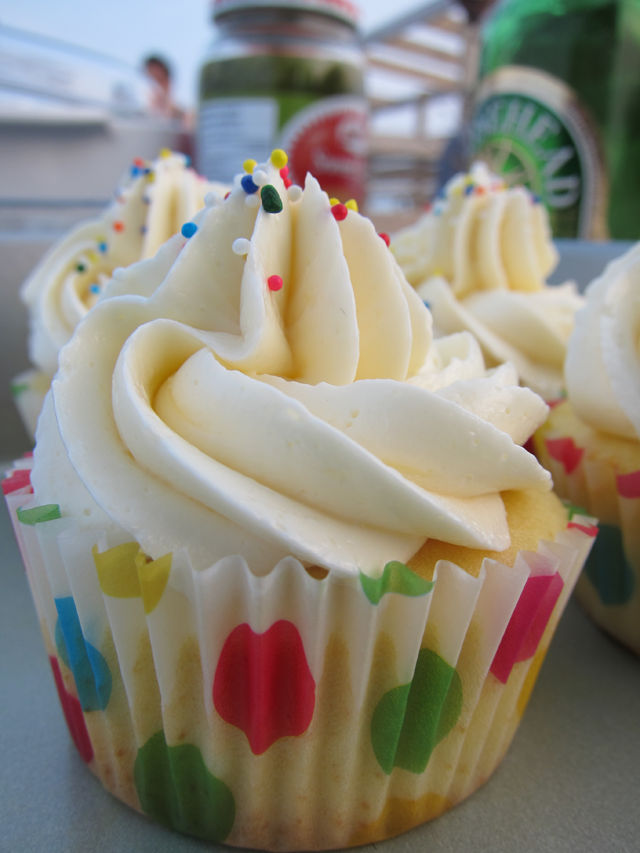 According to Martha Stewart, you will want to make these delicious cupcakes over and over again. I didn't believe her at first, but it's true! "Having two types of flour contribute to the cupcake's singular texture: Cake flour makes for a delicate crumb, while all-purpose keeps them from being too tender". These cupcakes are a guaranteed hit at any event!
Yellow Buttermilk Cupcakes
Makes 36 delicious medium sized cupcakes
INGREDIENTS
3 cups cake flour, (not self-rising)
1 1/2 cups all-purpose flour
3/4 teaspoon baking soda
2 1/4 teaspoons baking powder
1 1/2 teaspoons coarse salt
1 cup plus 2 tablespoons (2 1/4 sticks) unsalted butter, room temperature
2 1/4 cups sugar
5 large whole eggs plus 3 egg yolks, room temperature
2 cups buttermilk, room temperature
2 teaspoons pure vanilla extract
DIRECTIONS
Preheat oven to 350 degrees. Line standard muffin tins with paper liners. Sift together both flours, baking soda, baking powder, and salt.
With an electric mixer on medium-high speed, cream butter and sugar until pale and fluffy. Reduce speed to medium. Add whole eggs, one at a time, beating until each is incorporated, scraping down sides of bowl as needed. Add yolks, and beat until thoroughly combined. Reduce speed to low. Add flour mixture in three batches, alternating with two additions of buttermilk, and beating until combined after each. Beat in vanilla.
Divide batter evenly among lined cups, filling each three-quarters full. Bake, rotating tins halfway through, until cupcakes spring back when lightly touched and a cake tester inserted in centers comes out clean, about 20 minutes. Transfer tins to wire racks to cool 10 minutes; turn out cupcakes onto racks and let cool completely
Swiss Meringue Buttercream Icing
This all-purpose buttercream icing is perfect for cakes, cupcakes and can piped into perfect peaks and patterns. Less sweet than other types of frosting with a buttery taste.
Makes about 9 cups, enough for about 28 cupcakes
INGREDIENTS
2 1/2 cups sugar
10 large egg whites
4 cups (8 sticks or 2 pounds) unsalted butter, cut into pieces
2 teaspoons pure vanilla extract
DIRECTIONS
Place sugar and egg whites in the heat-proof bowl of an electric mixer. Set bowl over a pan of gently simmering water, and whisk until sugar has dissolved and egg whites are hot to the touch, about 3 minutes. Test by rubbing the mixture between your fingers; it should feel completely smooth.
Transfer bowl to mixer stand. Using the whisk attachment, beat on high speed until mixture has cooled completely and formed stiff and glossy peaks, about 10 minutes.
Add the butter, one piece at a time, and beat until incorporated after each addition. Don't worry if the buttercream appears curdled after all the butter has been added; it will become smooth again with continued beating. Add vanilla, and beat just until combined.
Switch to the paddle attachment, and beat on the lowest speed to eliminate any air pockets, about 5 minutes. If using buttercream within several hours, cover bowl with plastic wrap, and set aside at room temperature in a cool environment. Or transfer to an airtight container, and store in the refrigerator, up to 3 days. Before using, bring buttercream to room temperature, and beat on the lowest speed with the paddle attachment until smooth, about 5 minutes.
Recipe via Martha Stewart and Martha Stewart's Cupcakes

Eat more cookies! These delicious oatmeal raisin cookies are soft, chewy, and full of favors. Guarantee you will crave them nonstop. Don't say I didn't warn you.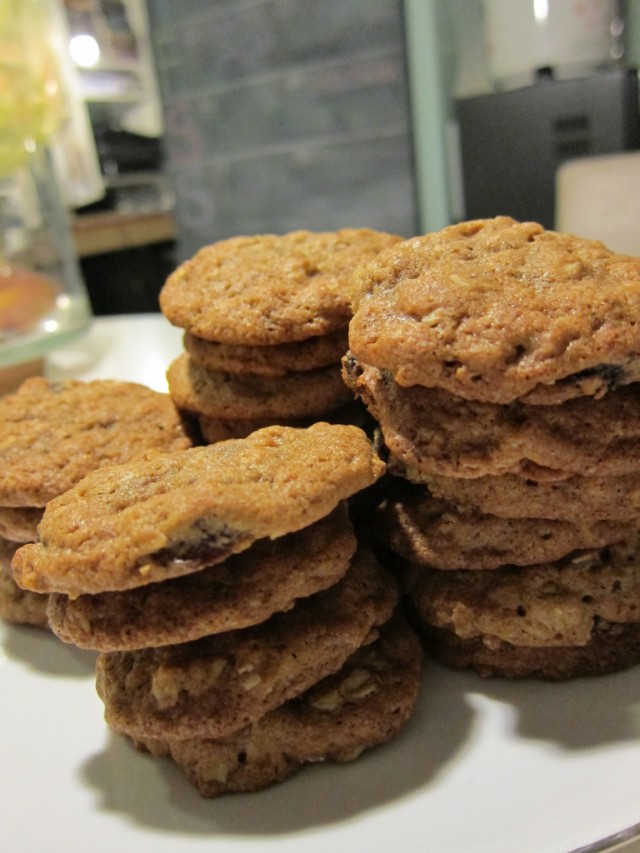 Makes about 5 dozen medium size cookies.
Ingredients
3 large eggs, beaten
1 cup raisins
1 teaspoon vanilla extract
1 cup butter
1 cup packed brown sugar
1 cup white sugar
2 1/2 cups all-purpose flour
2 teaspoon ground cinnamon
1/2 teaspoon ground nutmeg
1/2 teaspoon allspice
2 teaspoons baking soda
2 cups rolled oats
Directions
Combine eggs, vanilla and raisins in a small bowl; cover and allow the mixture to stand for 1 hour.
Preheat oven to 350 degrees F (175 degrees C).
In a large bowl, cream the butter, brown sugar, and white sugar together. Sift together the flour, nutmeg, allspice, cinnamon, and baking soda; stir into the creamed mixture. Then stir in the raisin mixture, and rolled oats.
Drop by teaspoonfuls onto an unprepared cookie sheet. Bake for 10 minutes, or until lightly browned

This is the best fluffy pancake recipe.  Seriously.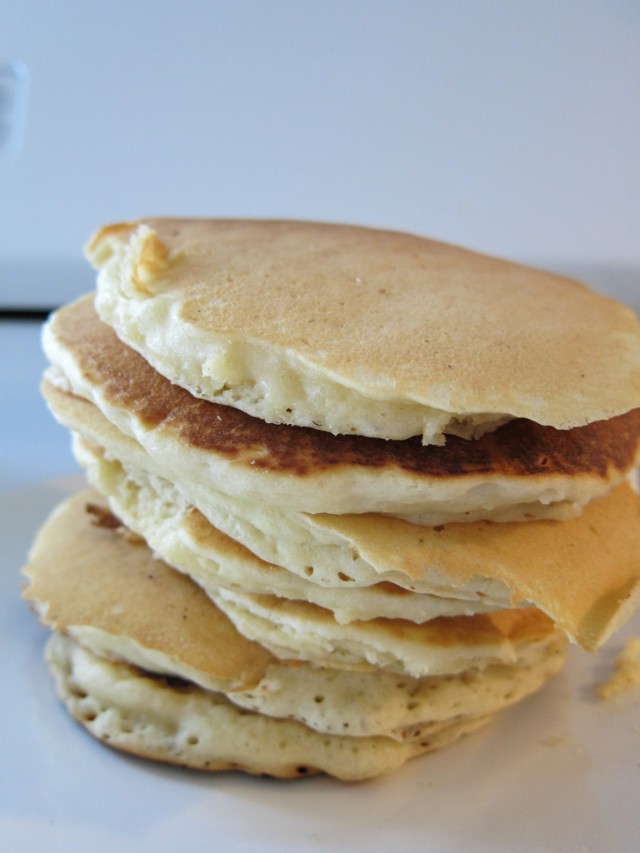 Ingredients
(makes about 15 – 6″ diameter pancakes)
1-1/2 cups milk
1/4 cup white vinegar
2 cups all-purpose flour
1/4 cup white sugar
2 teaspoons baking powder
1 teaspoon baking soda
1 teaspoon salt
2 eggs
1/4 cup vegetable oil
Directions
Combine milk with vinegar in a medium bowl and set aside for 5 minutes to "sour".
Combine flour, sugar, baking powder, baking soda, and salt in a large mixing bowl. Whisk egg and oil into "soured" milk. Pour the flour mixture into the wet ingredients and whisk until lumps are gone.
Heat a large skillet over medium low heat, pour 1/4 cupfuls of batter onto the skillet, and cook until bubbles appear on the surface. Flip with a spatula, and cook until browned on the other side.
This maybe the best fluffy pancake recipes I've ever tried.  It's also a great recipe for those with food allergies to easily substitute different ingredients. I usually substitute milk with almond milk, eggs with bananas, and experiment with different kinds of flours. For special occasions, customize your pancakes with blueberries or chocolate chips.

Whenever I am in the Annex or near little Korea in Toronto, I can never resist the temptation of stopping by and enjoying a few dishes from Thumbs Up! The name "Thumbs Up" itself says it all about this hidden gem. Situated at the south-west corner of Bloor and Palmerston, this is one of the best inexpensive Korean home-style joints in downtown Toronto.
All entrées comes with delicious hot barley tea and your popular Korean side dishes including kimchi and bean sprouts.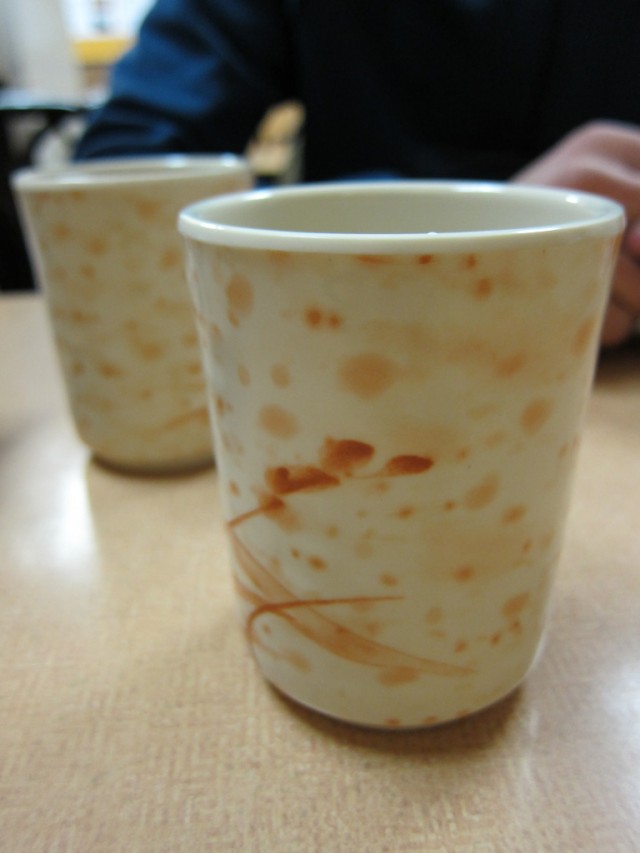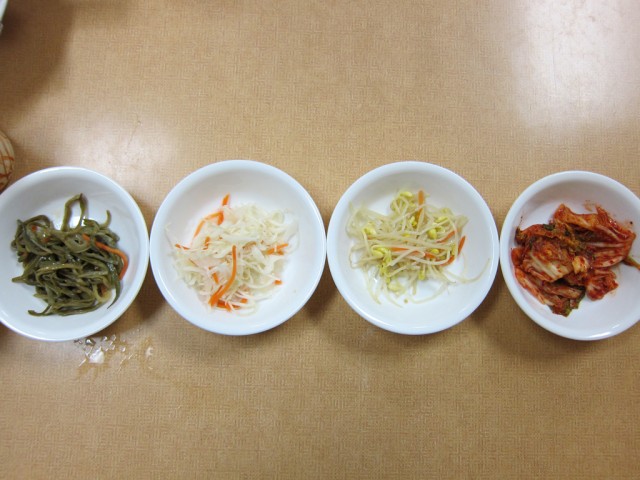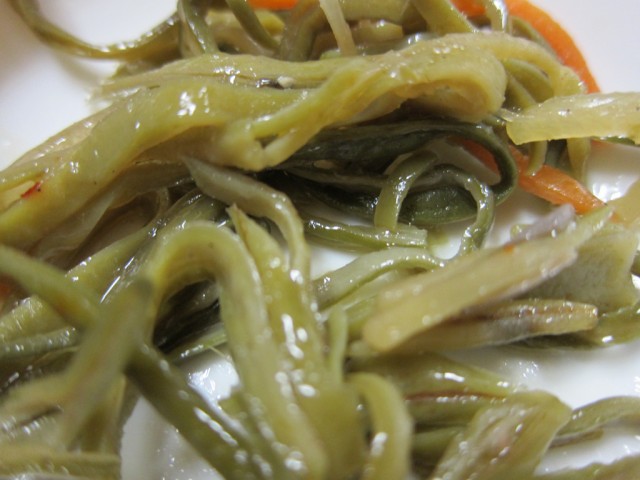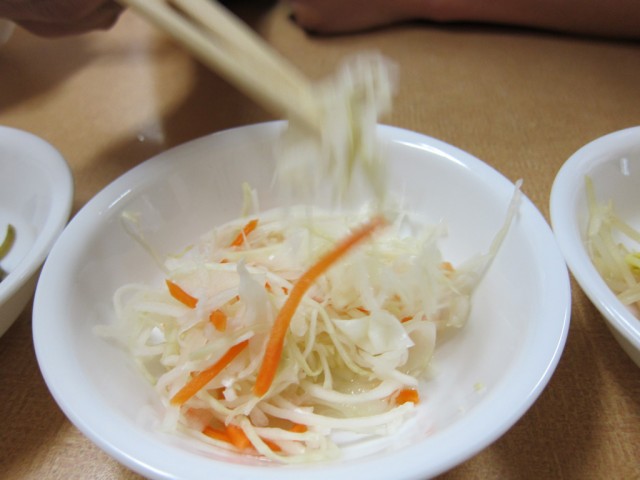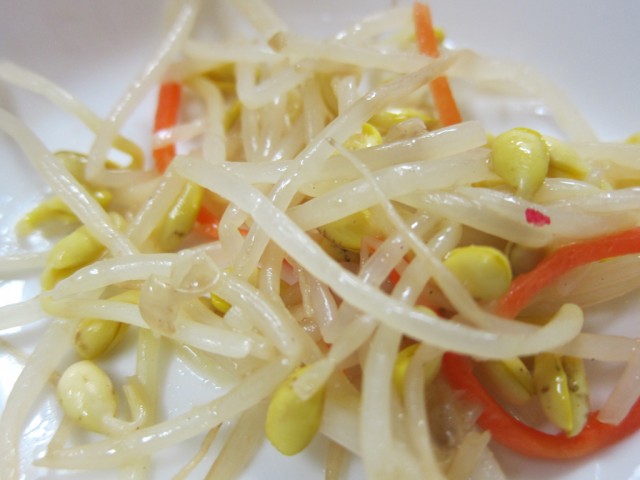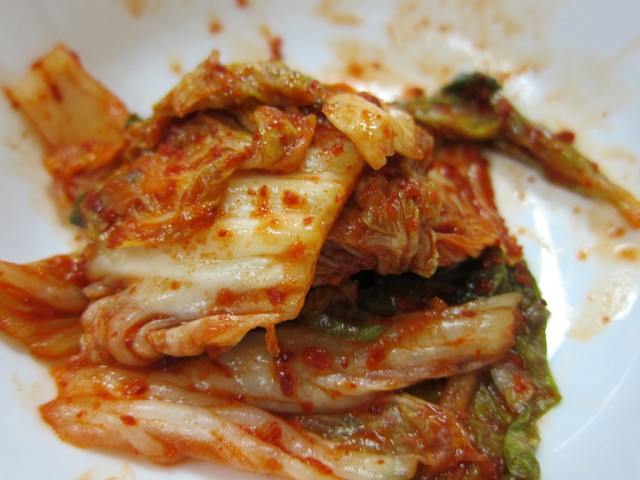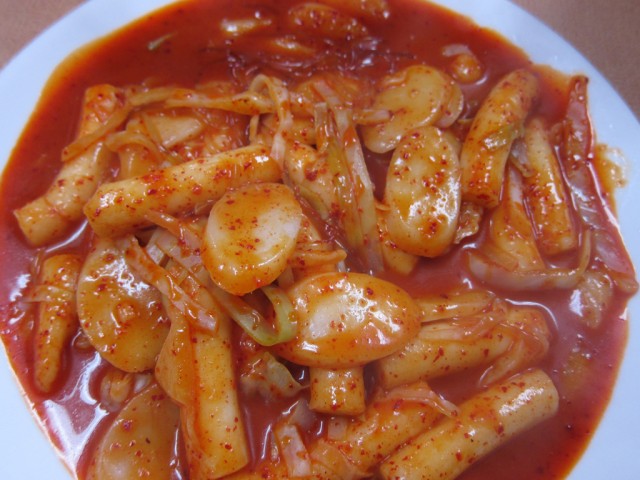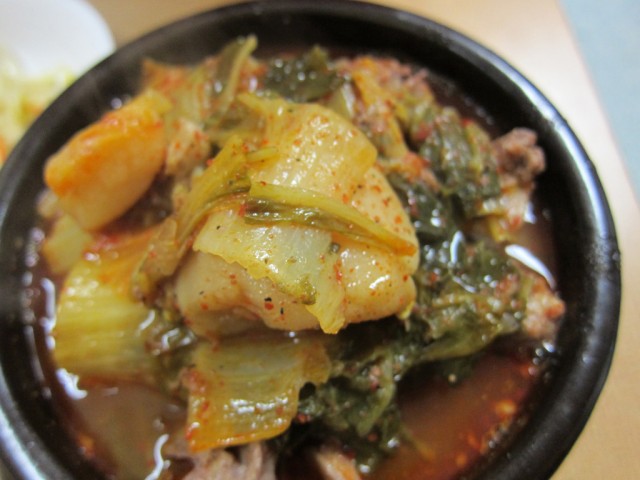 My favourite dishes are the pork bone soup (gamjatang) and spicy rice cakes (ddeokbokki). Not recommended for those who cannot handle the heat!
Thumbs Up
615 Bloor Street West, Toronto, ON
(416) 536-4106 ‎